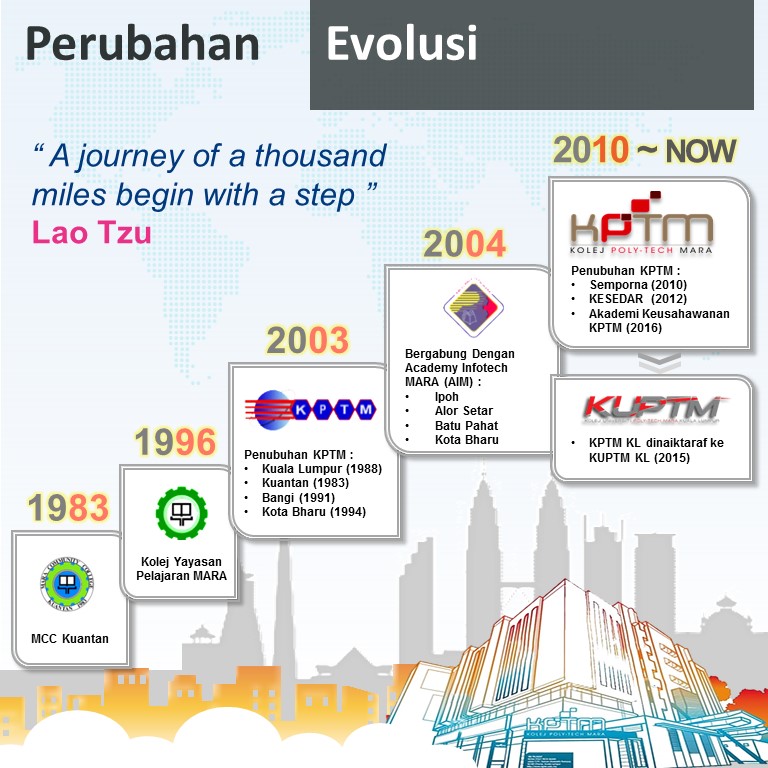 Background of Kolej Poly-Tech MARA (KPTM)
Kolej Poly-Tech MARA (KPTM), formerly known as Kolej Yayasan Pelajaran MARA (KYPM) was established as a private higher educational institution under the Private Higher Educational Institutions Act 1996 (Act 555) in September 2003.
Now Kolej Poly-Tech MARA Sdn. Bhd (KPTM) is an educational institution wholly owned by MARA Corporation Sdn Bhd (MARA Corp) that offers 45 study programs at the foundation, diploma, degree, post-graduate and professional study levels. KPTM operates in 7 branches including one of University College level which is Kuala Lumpur Poly-Tech MARA University College.
KPTM offers a wide range of educational opportunities in the field of Information Technology, Computer Science, Health Sciences, Social Sciences, Accounting, Business Management, Engineering, Humanities and Bio-Industry.
It all started in January 1983 with the establishment of the Learning Resource Centre in Kota Bharu, Kelantan. In June 1983, Maktab Sains MARA (also known as MARA Community College) in Kuantan, Pahang was formed. At that time, it offered a twinning program known as the American Associate Degree (AAD). The program was well accepted by more than 75 universities in the United States and New Zealand as a 2+2 transfer degree program.
This remarkable achievement later led to the establishment of KPTM Kuala Lumpur (1987), KPTM Bangi (1988) and KPTM Kota Bharu (1994). Numerous international strategic alliances were formed with the Northern Consortium of the United Kingdom (1988), the Australian Consortium of Higher Education in Malaysia (1994) and the British Consortium of Higher Education in Malaysia (1994) which enabled students to further their studies in a number of reputable universities in the UK and Australia.
The year 1993 saw an alliance formed with Dublin Business School (DBS), Ireland to conduct the ACCA professional accounting program which was followed by a partnership with Coventry University, United Kingdom in 2004 that led to initiatives in producing world class graduates.
News about the partnership with Dublin Business School (DBS) can be viewed here: DBS launches partnership with leading Malaysian College.
KPTM also established local collaboration with public and private universities such as Universiti Teknologi MARA (1994), Universiti Putra Malaysia (1995), Universiti Malaya (1995), Universiti Kebangsaan Malaysia (1996), Universiti Sains Malaysia (1996), Universiti Multimedia (1998), Universiti Utara Malaysia and also the Matriculation Centre, Ministry of Education Malaysia (1999).
The partnership with Dublin Business School (DBS), Ireland in October 2014 to conduct the Bachelor of Arts (Hons) in Accounting and Finance program was another bold step taken by Kolej Poly-Tech MARA (KPTM) to internationalize its academic program structures to benefit students in the long run.
KPTM's existing strength was built through its excellent track record by the merging of 2 MARA's renowned institutions, Kolej Yayasan Pelajaran MARA (KYPM) and Akademi Infotech MARA (AIM).
KPTM has grown over the years to be among the biggest Bumiputera private educational institution in Malaysia with more than 18,000 full time students spread over seven campuses in Kuala Lumpur, Bangi, Kota Bharu, Kuantan, Batu Pahat, Ipoh dan Alor Setar. To date, KPTM has produced around 62,000 graduates since its formal inception in 2003.
Kolej Poly-Tech MARA Kuala Lumpur (KPTM KL) was upgraded into a university college by the Ministry of Higher Education on 15th October 2015. KPTM KL is now officially known as Kolej Universiti Poly-Tech MARA Kuala Lumpur (KUPTM).
Our commitment to life-long learning and flexibility to education are reflected in the diversity of programs offered through the Centre for Continuing Education (CCE). Since its establishment in 1995, CCE has offered part time and distance learning programs ranging from certificates, diplomas and degrees in a spectrum of disciplines, as well as short courses conducted in collaboration with the local and international universities as well as other partner institutions.
Our Hope
Today, KPTM is proud of its history and solid foundation that has brought continuous educational growth into the future. In recent times, we are able to extend our affordable quality programs to many individuals in the effort to enhance knowledge and skills. It has become our absolute commitment to provide every opportunity to individuals in gaining easy access to education, besides providing a holistic approach to education and training, and assuring students a career and life to enhance their investments for the future.