Association of Chartered Certified Accountants (ACCA)
ACCA is the global body for professional accountants. The ACCA qualification is recognised and supported by top employers around the world.
Kolej Poly-Tech MARA (KPTM) being one of the Malaysian Private Higher Educational Institutions (IPTS) to receive Gold Status from Association of Chartered Certified Accountants (ACCA).
Find more about the programme;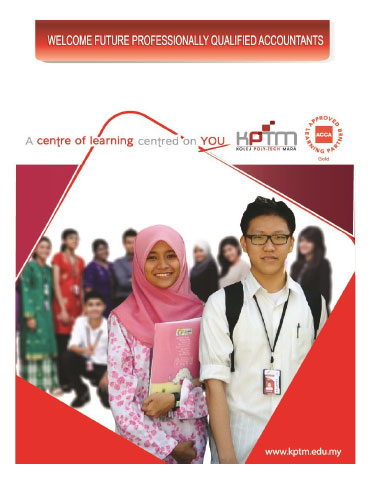 ACCA's APPROVED LEARNING PARTNER (ALP)

ACCA's Approved Learning Partner (ALP) programme gives formal recognition to leading learning providers for the quality tuition and support that they offer ACCA students. It is the platform through which ACCA can develop a mutually beneficial relationship, increasing the global availability of effective and innovative ACCA course delivery and first-class student support.
GOLD
Gold approval requires tuition providers to meet a range of challenging performance targets covering the institution's overall management and more specifically its ACCA course management and delivery.
WHAT ARE THE BENEFITS OF CHOOSING TO STUDY WITH AN APPROVED LEARNING PARTNER?
The approval programme has three major benefits for students:
Best practice assurance: in becoming an ALP, tuition provider will have been assessed against ACCA's widely recognised and highly-regarded global best practice benchmarks. This provides students with assurance of the high-quality ACCA tuition and student support.
Improvements in the quality of tuition and student performance: Tuition provider will have access to a range of development opportunities and tools, provided by ACCA to help in the continuous improvement of their tuition and student's performance.
Investigation of student complaints against tuition providers: ACCA investigates any student complaint made against an ALP. If student are unsatisfied with the way ALP has dealt with the complaint, ACCA can step in and request a report from the institution on how the complaint was dealt with through their complaints procedure.